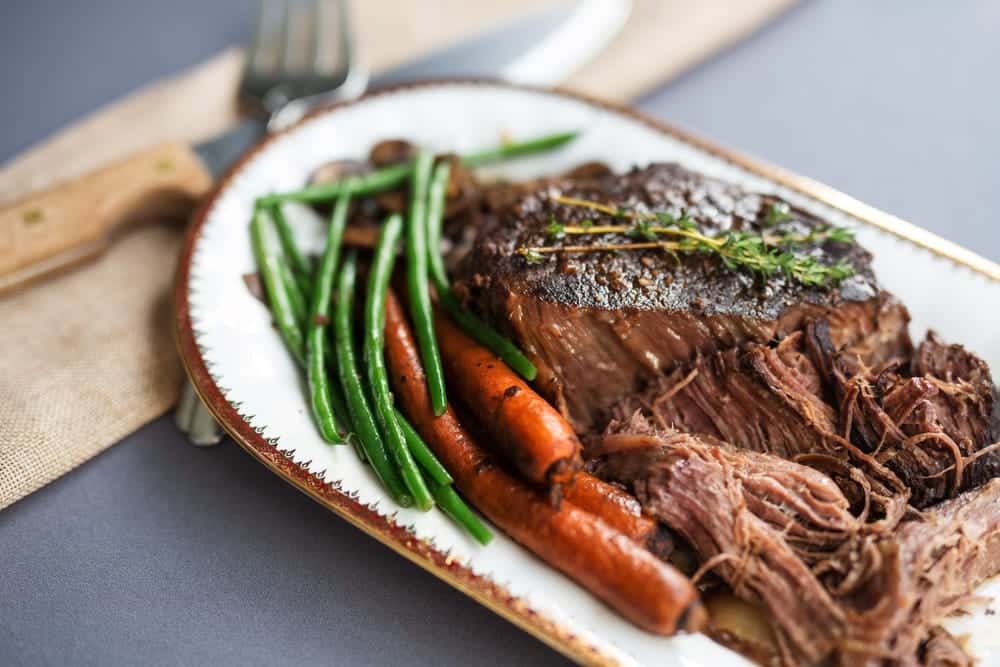 Ashkenazic Pot Roast (Gedempte Fleisch)
With so many traditions and dinner gatherings coming up this time of year, what better way to celebrate than with a good ol' pot roast! This recipe takes 3.5 hours of cooking and preparation time and doesn't contain any allergens. You definitely need to try this gluten-free, low carb, and sugar free pot roast with your loved ones this season!
Ingredients
3 1/2 – 5 pounds of beef chuck or shoulder roast
Salt, to taste
Pepper, to taste
3 tablespoons vegetable oil or Bartenura Olive Oil
1 large onion, chopped
1 cup chopped carrots
1 cup chopped celery
1 clove garlic, minced
1 teaspoon paprika (optional)
1 teaspoon dried thyme or basil (optional)
2 tablespoons Gefen Tomato Paste (optional)
2 cups stock or water (or 1 cup stock or water and 1 cup Baron Herzog Chenin Blanc or other dry wine)
1 bay leaf
Directions
1. Wash and pat the roast dry. Sprinkle salt and pepper to taste.
2. Heat the oil in a 4-quart Dutch oven or roaster over medium-high heat. Add the beef and brown on all side for about 20 minutes. Remove the roast.
3. Stir in the onions, carrots, celery and garlic. Saute until soft for about 5-10 minutes. Add the desired herbs and stir briefly. For preference, stir in the the tomato paste and cook until slightly darkened (2-3 minutes).
4. Add the wine and stock. Keep stirring to remove any browned particles.
5. Add the bay leaf, salt and pepper.
6. Return the beef, cover and bring to a simmer on a stovetop.
7. Preheat oven to 350℉ or simmer over a low heat (about 2.5-3 hours). Turn occasionally until fork tender. Note: The roast may be prepared up to this point up to two days in advanced, cooled and stored in the refrigerator before the reheating.
8. Remove from heat and let sit for 15 minutes. Meanwhile, strain the cooking liquid, pressing the solids.
9. Slice the meat against the grain and serve with gravy.
10. Enjoy!