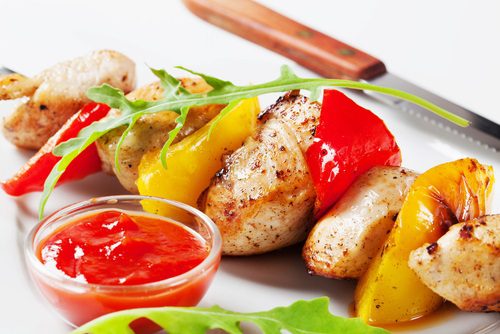 Chicken Skewers With Raspberry Dipping Sauce Recipe
Make yourself some unforgettable appetizers you'll surely enjoy any day alongside a delicious dipping sauce.
The Chicken Skewers Perfect for Shabbat
If you think healthy and delicious food doesn't exist, think again. Because these chicken skewers are baked and not fried, you can surely indulge some more with a raspberry dipping sauce. This combination will tickle your taste buds and give you the right balance of sweetness and savory. Here are the ingredients you need to get and the instructions to make appetizing chicken skewers with dipping sauce.
Ingredients
2 lb/ 1 kg dark chicken cutlets, each piece trimmed and cut in half lengthwise
1/2 cup cornstarch
2 eggs
2 tablespoons water
2 tablespoons soy sauce
1/2 cup seasoned panko crumbs
1/2 cup sesame seeds
2 teaspoons paprika
2 teaspoons garlic powder
Cooking spray
Raspberry Dipping Sauce
1 tablespoon oil
1/2 cup raspberry jam
1/4 cup ketchup
1/4 cup vinegar
1 tablespoon fresh grated ginger
Instructions
First, preheat the oven to 350 degrees Fahrenheit. Prepare a baking paper-lined cookie sheet and spray well with cooking spray.
Then, thread each piece of chicken cutlet onto a skewer. Prepare three bowls and place cornstarch in one. Mix eggs, soy sauce, and water in the second. And fix panko crumbs, paprika, garlic powder and sesame seeds in the third.
Dip each chicken skewer into cornstarch, then egg mixture, and end with the panko-sesame mixture. Lay the chicken skewers neatly on the cookie sheet. Make sure to spray them well with cooking spray and bake for 30 minutes.
While the chicken is baking, prepare the raspberry dipping sauce: In a small saucepan combine oil, raspberry jam, ketchup, vinegar, and ginger. Bring to a boil and simmer for a minute. Dip your chicken skewers into the sauce and enjoy.