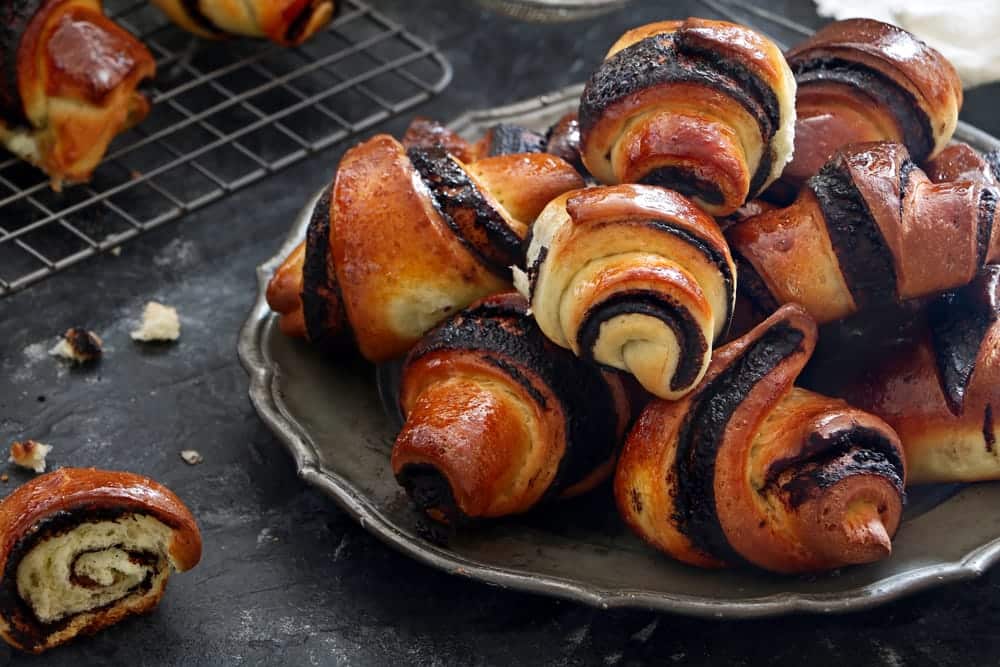 Israeli Rugelach Recipe
Our Israeli Rugelach recipe is definitely one to try! Soft, moist and absolutely delicious, this recipe is a dairy-free Israeli desert to share with your family and friends. It's sweet chocolate filling will have you grabbing for more!
Ingredients
Dough
3 ½– 4 cups of all-purpose flour (spooned and leveled off)
⅓ cups of white sugar
1 teaspoon of instant dry yeast
½ teaspoon salt
2 eggs
⅓ cup cooking oil
¾ cup warm water
Filing
1 cup cocoa
⅔ cup sugar
1 teaspoon cinnamon
½ cup cooking oil
Toppings
1 egg (beaten)
¼ cup water
¼ cup sugar
1 tablespoon sesame seeds
Directions
1.Combine flour, sugar, yeast, and salt in a large mixing bowl.
2. Add the eggs and cooking oil. Mix ingredients with a break hook attachment. Add the warm water a little at a time until the dough is sticky and not wet.
3. Mix for about 5 minutes or until the dough pulls away from the sides of the bowl. If the dough gets too sticky, add a tablespoon of flour at a time until you have achieve the correct consistency.
4. Place the dough in a greased mix. Cover with a towel and let the dough rise until it's double in size.
5. Dive the dough in two equal sections.
6. Roll out the one half of the dough into a horizontal recantangle. Do this on a well-floured surface. Be sure that the dough is thin, but not too thin if it rips when moved.
7. Spread about ⅓ of the filling over the dough. Then fold the dough over itself towards you. Spread another layer of filling. Cut the dough into triangles creating a zigzag pattern. Tip: Try not to make the triangles too wide or too narrow, this give the Rugelach its unique shape.
8. Repeat these steps with the remainder of the dough and spread.
9. Preheat the over to 360℉ or 180℃.
10. In the meantime, let the Rugelach rise until the oven is ready.
11. Then, generously brush with remaining egg. Bake until golden brown, about 30 minutes.
12. Mix remaining sugar and water in a pot and heat to create a simple syrup consistency. Pour the syrup over the Rugelach and sprinkle sesame seeds over top.
13. Enjoy!