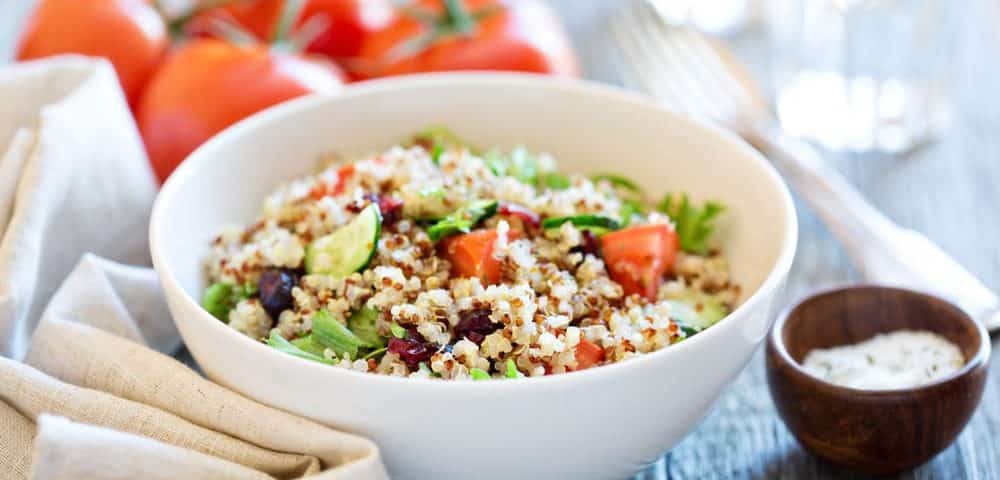 Quinoa Tabbouleh
Add some color to your plate by trying out this quick quinoa tabbouleh recipe.
Quinoa Tabbouleh
Quinoa is a key ingredient that is protein-rich, loaded with fiber, and contains all nine essential amino acids that most other grains lack. Check out this fast and simple recipe you can either use for a side dish, appetizer, or a light lunch. This recipe makes 8 servings.
Ingredients
2 cups water
1 cup quinoa, rinsed
1 can (15 oz) black beans, rinsed and drained
1 small cucumber, peeled and chopped
1 small sweet red pepper, chopped
⅓ cup minced fresh parsley
¼ cup lemon juice
2 tablespoons olive oil
½ teaspoon salt
½ teaspoon pepper
Directions
1. In a large saucepan, bring water to a boil. Add quinoa. Reduce heat; cover and simmer for 12-15 minutes or until liquid is absorbed.
2. Remove from heat; fluff with a fork. Transfer to a bowl; cool completely.
3. Add beans, cucumber, red pepper and parsley. In a small bowl, whisk the remaining ingredients.
4. Drizzle over salad and toss to coat.
5. Refrigerate until chilled.