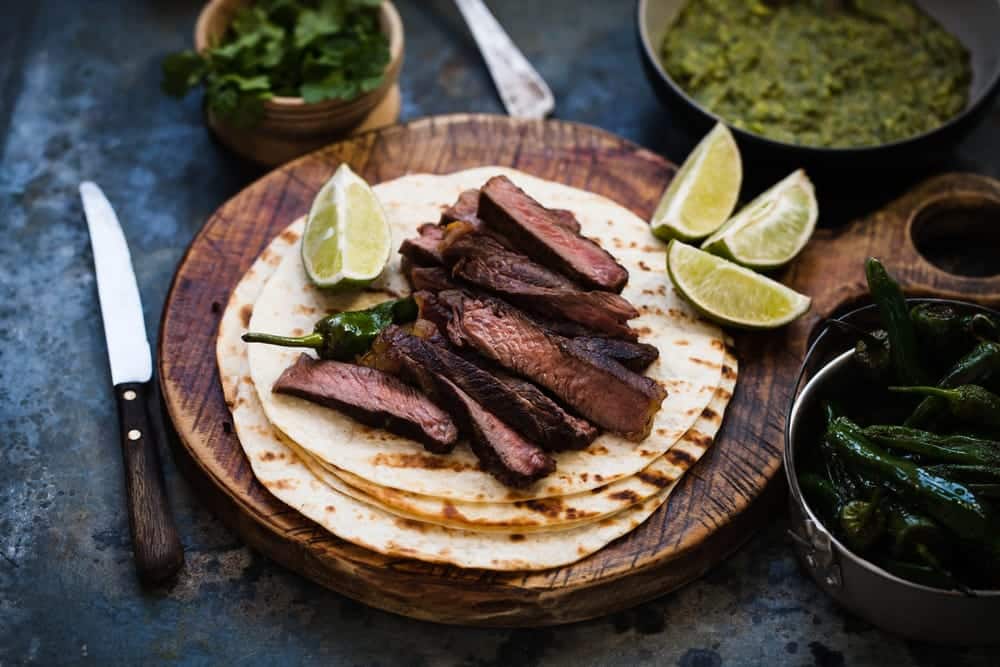 Steak and Hummus Flatbreads
Check out our easy steak and hummus flatbread recipe that serves 10! This recipe takes a total of 40 minutes to prepare and cook and is absolutely delicious for shabbat or any other occasion. Serve as an appetizer or a snack.
Ingredients
Steak mixture
¼ cup oil
2 onions
1-1½ pounds pepper steak, thinly sliced
1½ teaspoons Haddar Kosher Salt
1 teaspoon garlic powder
1 teaspoon paprika
1 teaspoon cumin
½ teaspoon nutmeg
Flatbreads
4 Malawach dough rounds
1-2 teaspoons Bartenura Olive Oil
For Serving
1 (10 ounce) container hummus
Directions
Prepare the Steak
1.Heat oil in a skillet on medium heat. Add onions. Cook and stir occasionally until they start to brown (about 10 minutes). Remove onions from the skillet and set aside.
2. Add steak to the pan. Stir every couple of minutes (about 10 minutes)
3. Return the onions to the pan. Add salt, garlic, paprika, cumin and nutmeg. Turn heat down to a low temperature and cook for 10 minutes. Set aside.
Prepare the Flatbreads
1.Preheat oven to 350℉.
2. Line two baking sheets with Gefen Easy Baking Parchment Paper and set aside.
3. Roll out a Malawach round to thin it slightly. Cut rounds into four-six wedges. Place on baking sheet and brush with oil. Repeat with remaining dough.
4. Bake for 18-20 minutes, until the dough starts to turn golden and crisp.
5. Spread hummus over the flatbreads, top with steak mixtures, and serve warm.